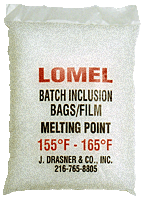 J. Drasner & Co. is now part of HB Chemical. Please note our new location and contact information below.

J. Drasner & Co. supplies low melting batch inclusion bags and film to rubber and plastics manufacturers worldwide.
At J. Drasner & Co., customer satisfaction means providing the best price/performance products possible. Our goal is Total Commitment to meeting customer expectations by supplying defect-free products using the latest technology to meet their additive and batch inclusion packaging needs.
Benefits of working with J. Drasner & Co:
We are recognized as a leading supplier of chemical additives, batch inclusion bags, and film.
We supply to major tire producers, custom rubber mixers and rubber chemical suppliers throughout the world.
Superior technical knowledge of the products.
Complete range of melting points available made from a wide variety of polymer films.
As a supplier of chemical additives, we understand the importance of film composition and other key properties. This is critical because the bags become an integral part of the final product.
Flexibility in terms of small runs, short lead times, and custom bag sizes.
Unmatched customer service.
Our Quality System is ISO 9001:2015 registered.